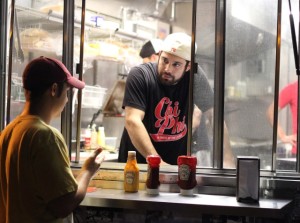 Looking for a new take on lunch? Break away from campus cuisine on the first Friday of every month and make a quick trek down University Boulevard.
Carey Sobel and James Guerino, UCF graduates and co-owners of the Chi Phi food truck, are going to bring their truck and others to Food Truck Friday at Knight Library starting Jan. 3 and plan to continue it the first Friday of every month.
Chi Phi features food that comes from Chicago and Philadelphia, which is where the name comes from.
Guerino said the two headliners of the menu are the Phillycheesesteak for Philadelphia and the Italian beef sandwich for Chicago.
"We didn't feel like there was a good place for cheesesteaks or Italian beef in Orlando, or even really in Florida," Guerino said. "So why don't we create this concept where there's two cities kind of battling it out for the rights to the customers' hearts?"
The idea first came about in June of last year, Sobel said, and in addition to the food truck, he opened up The Basement, a bar in downtown Orlando, in June of this year.
Both opened within a few weeks of each other, and the bar also serves Chi Phi food.
There's no need to worry about authenticity, either.
Sobel is from Philadelphia and Guerino is from Chicago, and both are passionate about their cities — and the food.
"I've always wanted to start a cheesesteak place since I moved from Philadelphia when I was 18. Being pretty passionate about my city and the fact that you can't get a good cheesesteak outside of around the city of Philadelphia," Sobel said. "I actually learned through [Guerino] that the Chicago Italian beef sandwich is to a Chicagoan as a Philadelphia cheesesteak is to a Philadelphian."
Their first Food Truck Friday event, which was held in November, didn't turn out as successful as they hoped it would — but they aren't letting that slow them down.
"We got 100 people last time. If we can do 400, 500 people, the next one will multiply by three, that's just the way these shows work," Sobel said. "Once you get a couple hundred people out there, that's it. That's all you need to do."
Guerino said the turnout was less-than-ideal simply because they didn't market it enough in time for the event, but the partners are working to create more of a presence both in the area and online.
Fliers, signs, a stronger social media presence and simple word of mouth are all part of their plans to bring more awareness of the event to people in the area.
"UCF is a pretty tight-knit community so there's no reason why UCF shouldn't have a food truck," Sobel said. "I think it'll be a great thing to start around the UCF community with the food truck hype that's going on right now."
Knight Library was, therefore, an ideal place for the UCF community to come together for Food Truck Friday and try out Chi Phi's food.
"It just made sense … and it could be a mutually beneficial thing where people eat and then they go have a couple drinks inside of Knight Library," Guerino said.
Their relationship with Knight Library began in 2005 when Sobel started working there as a disc jockey.
After some time, he stopped DJing and instead headed Library's marketing efforts by performing tasks such as producing a newsletter and maintaining an online presence.
When the popular bar relocated last year, a unique partnership bloomed.
Because the new location didn't have a kitchen, the management at Knight Library decided to partner up with Sobel and Guerino to use the equipment in their truck to make food.
Food service is only offered when the truck is there, which typically includes weekends and game days, Knight Library general manager Cabot Brown said.
"They handle the complete food side of it," Brown said, noting that none of Knight Library's employees are cooks and that the focus is instead on alcoholic beverages, soft drinks and the indoor seating. "It's a completely separate entity. We just kind of teamed up so people think of us as a food destination as well."
Sobel and Guerino decided not to do Food Truck Friday in December for two reasons: to have more time to market it better and because many students will either be heading home or taking finals around that time.
"We really want to promote it and do it the right way when we start this up in January," Guerino said.